LUXURY FRACTIONAL APARTMENTS IN THE HEART OF PARIS
We made our mark through renting luxury short-term vacation rentals in Paris' best locations, and after 20+ years in business and thousands of guests, our business has naturally evolved. Thanks to our stellar reputation in vacation rentals and property management, many of our guests have shared with us their dream of owning an apartment in Paris.
After meeting dozens of interested buyers over the years, we realized that full-property ownership would be impractical for many given the limited amount of time they can spend abroad. In addition, the hassle and expense of owning an overseas property, as well as Paris' strict short-term rental restrictions, meant they could no longer rent their properties to earn income.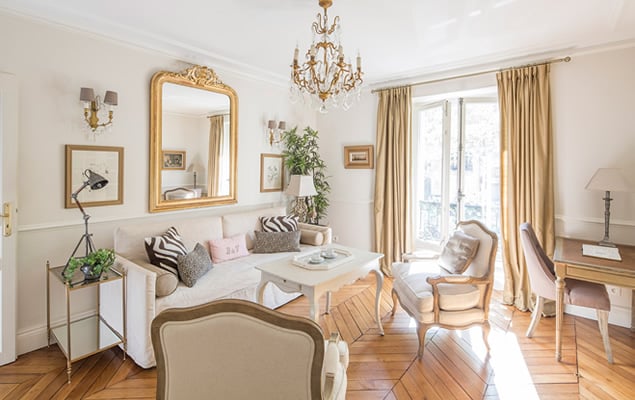 TROUBLE-FREE OWNERSHIP
Fractional co-ownership is specifically designed to meet the needs of those who dream of owning a second home in Paris, but simply would not use the property often enough to justify the expense. If you have been discouraged by news of tighter rules on short term vacation rentals, which can leave non-resident property owners with vacant properties and frustrated investment goals, then our fractional properties are for you.
Luxury fractional co-ownership gives those who have always dreamed of owning an apartment in Paris the opportunity to have a charming and wonderfully renovated place in the heart of historic Paris, all for a fraction of the cost and none of the risk. By rotating time in-residence, carrying costs are covered for the entire year.
One share represents four weeks in a beautiful and elegant Paris apartment, with fully deeded ownership that can be sold or passed on to heirs. The weeks will be chosen each year, two weeks at a time, in a two round draft rotation by owners. This gives all owners a fair opportunity to choose their preferred weeks.
Best of all, owners have the assurance that Paris Perfect stands behind the property and its ongoing management, with twenty years' experience serving guests in Paris. As with all their impeccably maintained and remodeled apartments, the fractional properties include custom monogrammed linens, laundry and a full-time staff ready to assist.
FRACTIONAL CO-OWNERSHIP APARTMENTS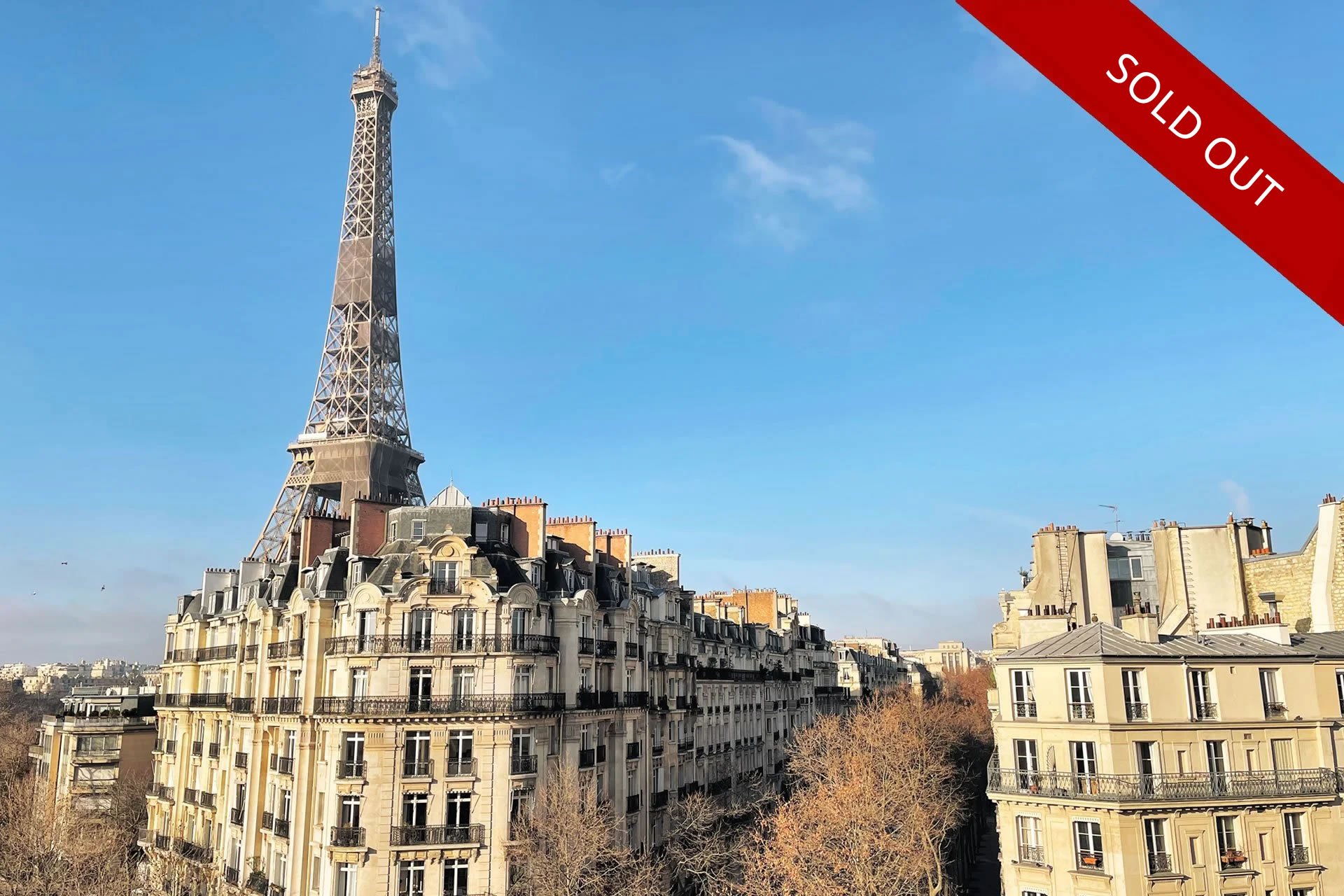 The Armagnac apartment has front-row seats to the most awe-inspiring, unobstructed views of the Eiffel Tower. Five sets of large windows wrap around the apartment, providing stunning views. Located on the Left Bank, it is a 7th floor apartment in the prestigious 7th arrondissement.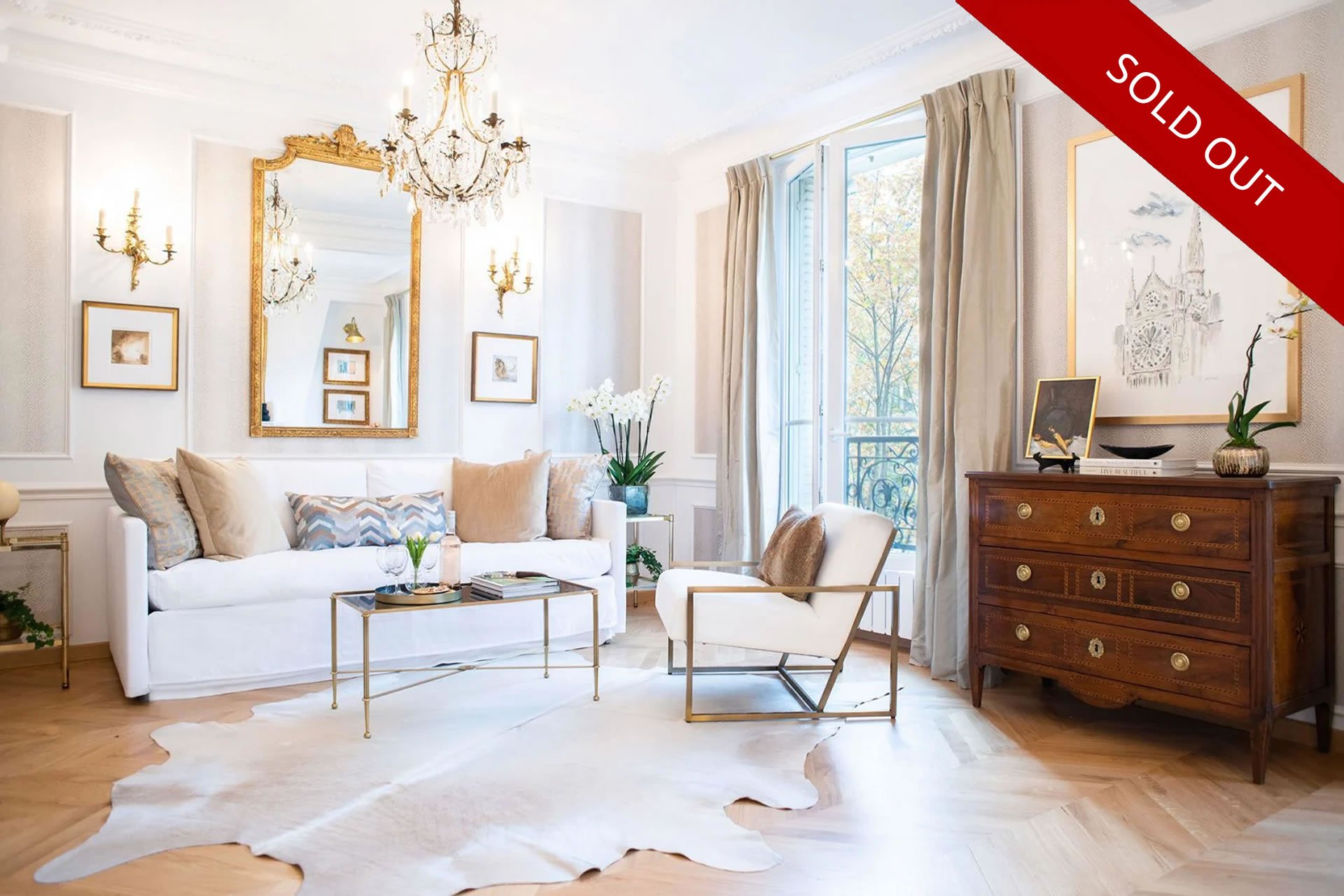 On the left bank of the Seine, in the idyllic 7th arrondissement, the Vivant apartment overlooks Avenue de la Bourdonnais, one of the most prestigious streets in Paris and has enviable views of the Eiffel Tower.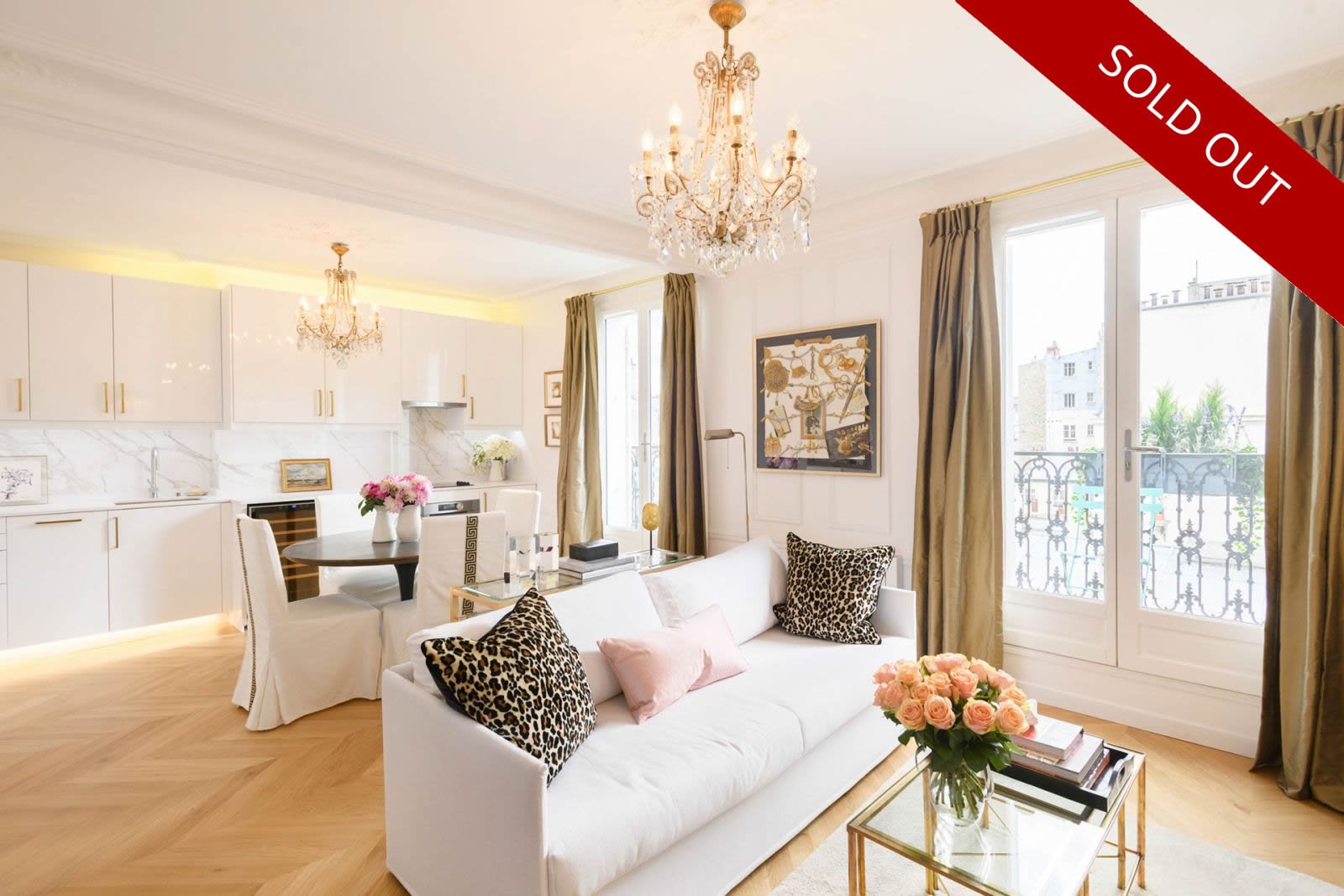 Situated in the picturesque 7th arrondissement, on the Seine's left bank, this beautiful apartment is located on rue Saint-Dominique, one of the best streets in Paris, just around the corner from the famous rue Cler market street. Gros-Caillou is, one of the most exclusive neighborhoods in Paris.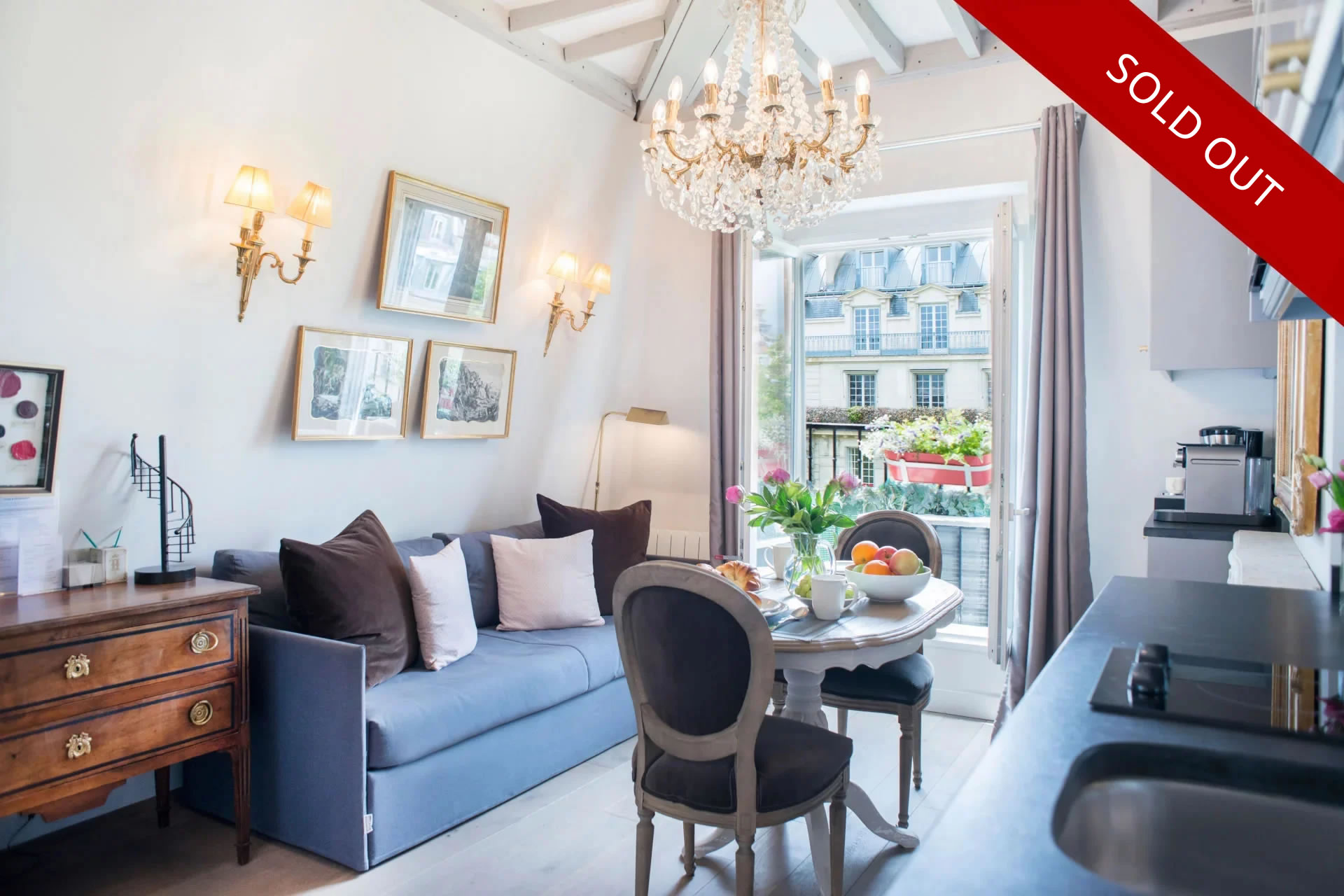 Settle into a fabulous stay, in the heart of the exclusive 7th arrondissement, at the Crémant apartment. This charming studio/junior one-bedroom apartment is located near the famous rue Cler market street, with a picture-perfect view of the Eiffel Tower.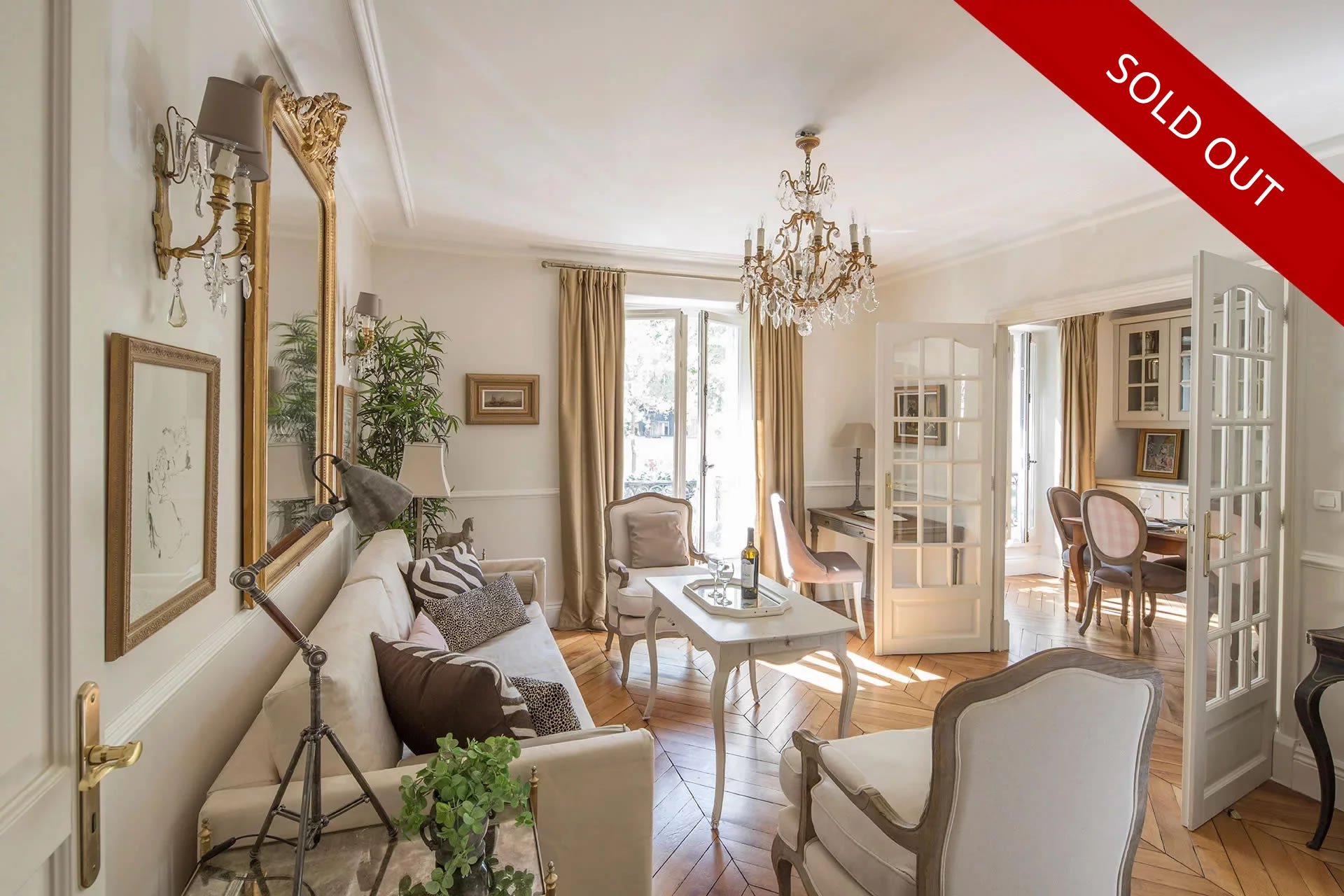 Buyers asked for a larger pied à terre apartment in Paris, and Beaune is the perfect answer. It features an open plan kitchen, Eiffel Tower views, two bedrooms, two bathrooms and the best location on Paris' Left Bank! As one happy owner wrote, "Beaune is the best investment/purchase I've ever made."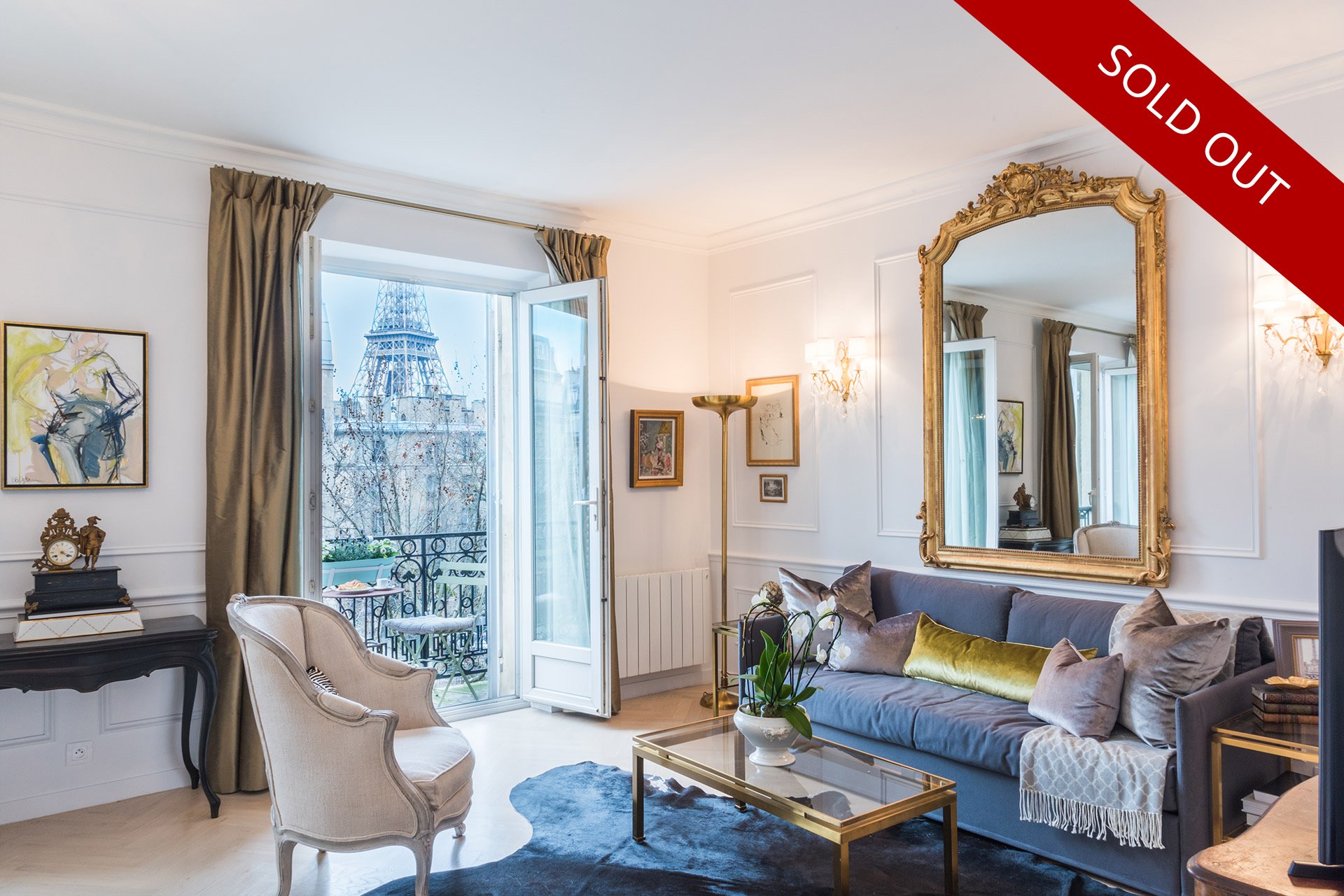 Renovated to the highest standards and meticulously decorated by a renowned design team, the one-bedroom Cairanne apartment has a spacious, sunlit living room, with French doors that open to the small balcony with Eiffel Tower views.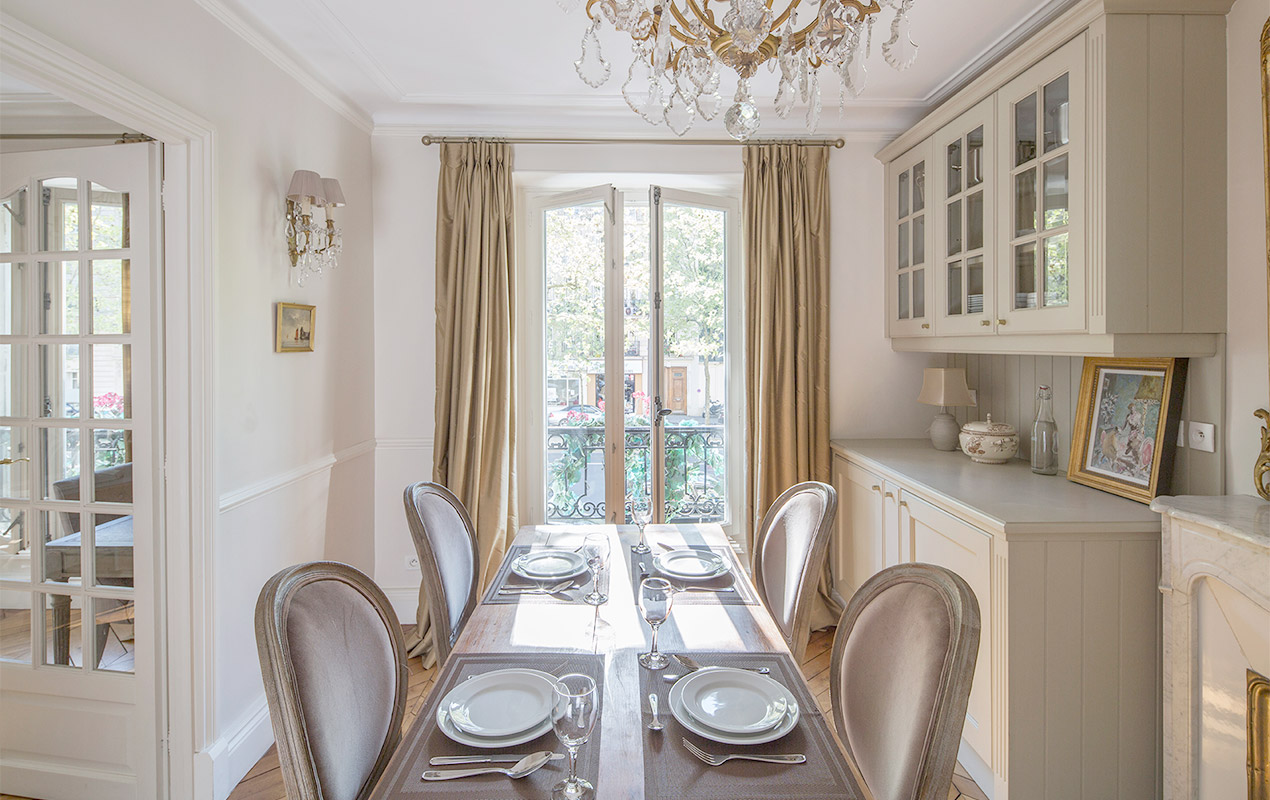 TERMS:
The purchase price represents 1/13th share of the property. You will actually be an owner of the apartment, enjoying it to the fullest, without the worries and expense of day-to-day hassles.

The annual maintenance fee covers virtually everything: cleaning fees, building management, insurance, accounting, payments, banking, property taxes, utilities, supplies, linens, personal item storage and property management fees, plus a contribution toward a longer-term maintenance fund for regular updates to the apartment as well as minor building assessments. Changeover and mid-stay housekeeping are included in the annual fee.

The annual fee will not vary with the number of owners, which means you will not pay more if some of the shares are unsold.

Stays are 2 weeks + 2 weeks: Allocation of stays, two weeks at a time, is based on a rotational draft system so all owners have a fair chance for the most popular weeks. The first round of the draft locks in two consecutive weeks, and a second round guarantees two more consecutive weeks. As with other well-run properties, weeks can be exchanged with the other owners or lent to friends and family.
As with other well-run properties, weeks can be exchanged with the other owners, or lent to friends and family.

Storage and seven-day per week assistance in Paris

HIGHLIGHTS:
Unquestionably the best locations in Paris

Apartments are close to rue Saint Dominique, rue Cler and rue de Grennelle, Invalides, Eiffel Tower, River Seine, Ecole Militaire, Musee Quai Branly and transportation.

Beautifully designed interiors

Skillfully remodeled and maintained by our Paris team

Weeks can be exchanged with the other owners or lent to friends and family.

Your ownership share appreciates with the market and can be sold or left to heirs at any time.
NEIGHBORHOOD:
Our fractional co-ownership apartments are located in the prestigious 7th arrondissement of Paris, near the Eiffel Tower, the charming street market rue Cler and the Seine River. The properties are within easy walking distance of many major monuments, as well as charming market streets, cafés, shops and parks – making it the perfect home base for exploring Paris and beyond. And after a day of exploring, you get to relax in your own home.
The top-notch renovation and interior design create a timeless look that will provide years of enjoyment. Every need has been taken care of, right down to the silverware, high-end monogrammed linens and small appliances. High-speed internet and electronics keep you connected in your home away from home.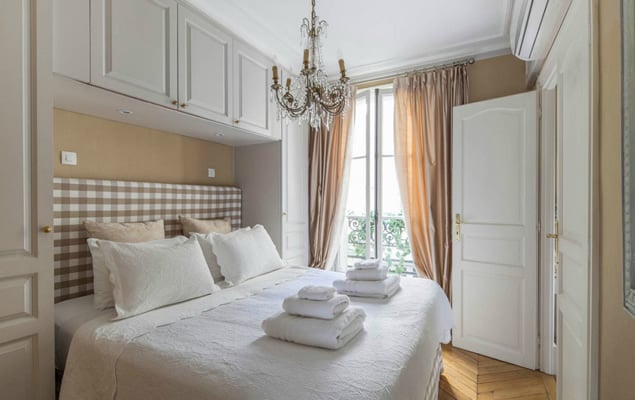 HOW WILL I CHOOSE MY WEEKS?
This is a great problem to have, and one that has no bad answers. You'll have two blocks of two weeks each. Will you come in the warm weather, when things slow down and you feel like you have parts of Paris all to yourself? Will you come in the cooler months when the social season is in full swing and there are abundant activities to choose from? Here's a look at what is great about every season:
Spring: Paris blooms early, often in February or March, and can be quite warm by May. The gardens and parks are all in bloom; it's a great time to add on an extra leg to your Paris weeks with side trips to other spots in Europe (that's what the French do!). Hitting one of the farmers markets and eating a picnic while sitting on your balcony is a great idea in spring. Explore trendy market streets and the surrounding neighborhoods like rue des Martyrs in the 9th, rue Mouffetard in the 5th, Marché des Enfants Rouge in the 3rd, and Marché d'Aligre in the 12th.
Summer: The banks of the Seine are converted into beaches and pedestrian areas, lined with pop-up venues to eat and drink while watching the river go by. The café scene is alive as the French still in Paris try to soak up all the sun they can. It's a great time to take day trips into the countryside to explore. The Loire chateaux, Champagne, and Bordeaux are all within two hours by train.
Fall: After the summer break, the city picks up its pace in the Fall. Join an expat group to make local friends, and get in on the walking tours, cooking classes, wine dinners, and excursions that fill up the fall and winter social calendar. Fall is also a great time to add onto your weeks visiting elsewhere in Europe, before or after your stay in Paris.
Winter: Winters are mild in Paris; often a leather jacket and scarf are enough. With fewer holidays and vacations breaking up the calendar, the expat social scene is in high gear October through April. Christmas is a treat with the city in lights and all the holiday markets in the month or so before. There is ice skating at the Grand Palais and in front of Hotel de Ville. This is the time of year to try all those new restaurants, since there is less competition for reservations. Explore all the covered passages with their holiday lights. Your new local friends are mostly around during this period, so it's a good time to build your network.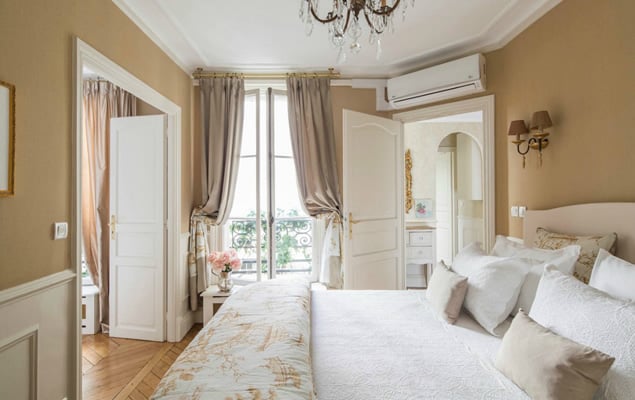 FAQ
Q: You're a well-regarded company at Paris Perfect for luxury rentals. Can you tell us why you decided to expand to fractional ownership? How you think you can do it better?
A: The reason we launched Paris Perfect Shared is because we recognized a desire among many of our clients to have a beautiful home in their favorite city, without the hassles and expense of full ownership. Paris Perfect has a very clear advantage: We know how to locate, remodel and manage the most beautiful homes in Europe. Thanks to that reputation and our base of thousands of loyal clients, the first fractional apartment sold out quickly. Paris Perfect continues to offer the same excellent service as they have for over twenty years, with attention to detail, from in-house maintenance staff, housekeepers and welcome center to even our own laundry. Owners step into a beautiful, impeccably clean apartment each time they arrive.
Q: How is the annual budget set for the property? Are there any additional costs?
A: All of the costs to manage the apartment including building charges, syndic, utilities, taxes, turnover / cleaning, management, supplies, and a 5 to 10-year depreciation cycle for appliances and normal wear and tear, are included in the annual fee paid by each owner. A substantial portion of the annual fee is set aside for a longer-term maintenance fund for the apartment and building.
Q: Will we need a French bank account, or be liable for taxes in France?
A: No, and this is a key advantage of purchasing fractionally from Paris Perfect Shared. The annual fees include all estimate costs and are paid in dollars to a US non-profit company that owns all the shares of the apartment. The payments are wired to the French bank account of the French SCI (like an LLC), which exclusively owns the apartment. There are no French reporting requirements and no need for a French bank account.
Q: If an owner wants to exit, will there be a chance among the other owners to purchase the share first? Is there a defined exit process for an owner who wants to sell their share?
A: Yes, it is a defined process. Other owners have the first priority. We expect the share value to appreciate with the market. Our experience is that the shares are very liquid and sell relatively easily for desirable properties.
INQUIRE
Interested in learning more? Contact us here