REMARKABLE 2 BEDROOM APARTMENT WITH BEST LOCATION, BALCONY AND EIFFEL VIEW FOR SALE!
This stunning 2 bedroom apartment features a show-stopping location that's a single block away from the Eiffel Tower and enchanting Champ de Mars gardens. Owners can luxuriate in morning breakfasts on the private balcony overlooking the charming adjacent street, and will enjoy plenty of daily sunlight thanks to a rare collection of three French doors and an open living and dining area. Boasting 800 square feet of living space, this south-facing apartment with a newly remodeled kitchen and bathroom can also be effortlessly converted into a luxury one bedroom, thanks to adjoining bedrooms. The possibilities are endless to create a personalized Parisian retreat, and the location is nothing short of spectacular!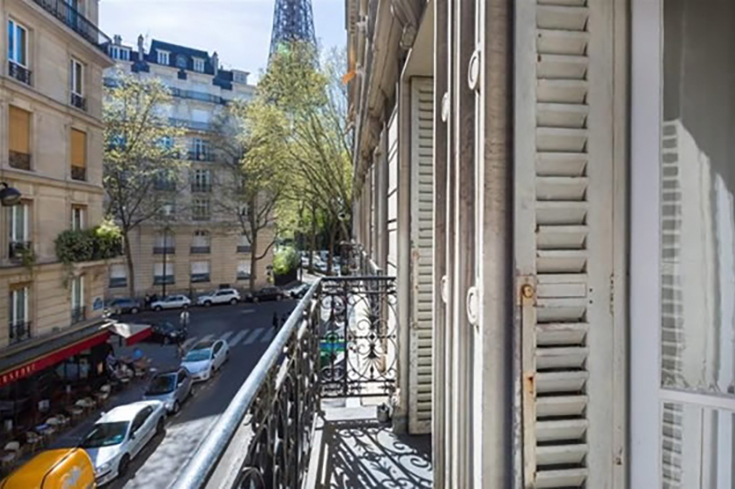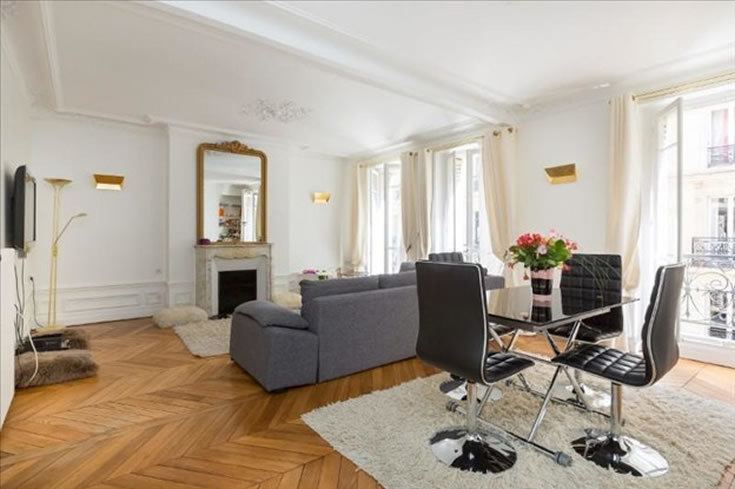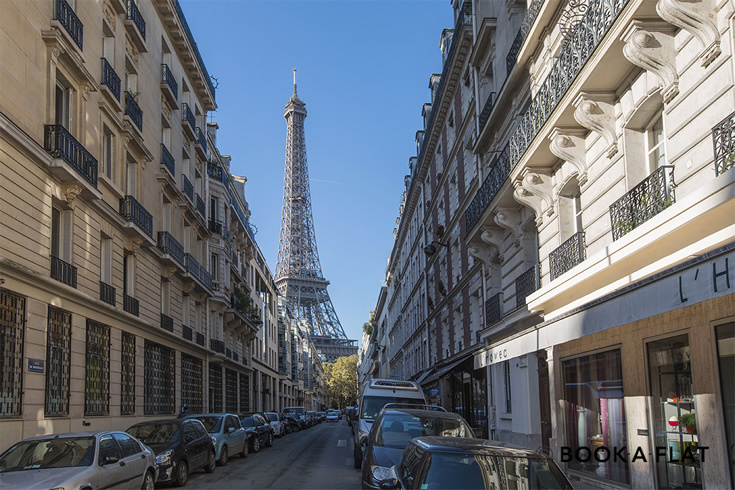 DESCRIPTION FOR APARTMENT
Take a quiet stroll along one of the most charming streets in the prestigious 7th arrondissement to discover this chic 2 bedroom apartment with an impressive 800 square feet of living space and ample possibilities for owners to create a luxurious, personalized space to call their own. This south-facing apartment is located in one of the best regions in Paris and is close to a wealth of open air markets and rue Cler market street, as well as the Eiffel Tower and Champ de Mars gardens just one block away.
Ride the elevator to the 2nd floor (3rd floor American) and step into the light-filled living area with tall ceilings and ample room to move. A rare suite of three French doors provide plenty of natural sunlight, and two lead out to the private balcony which overlooks the enchanting street below.
The central living and dining area is open and airy, while the master bedroom is an inviting retreat with a second bedroom located just next door. It would be an easy feat to convert the space into a luxury one bedroom apartment with walk-in closets, or utilize the additional bedroom as a sunny home office or den.
Offered at excellent price of €1,079,000, Paris investors will be hard-pressed to find an apartment with a better view or locale that features such a suite of amenities, inside and out. With a newly remodeled bedroom and kitchen and classic Parisian appeal, this apartment is a dreamy escape for owners who demand the best. We know if will go very fast, so contact us right away if you're interested!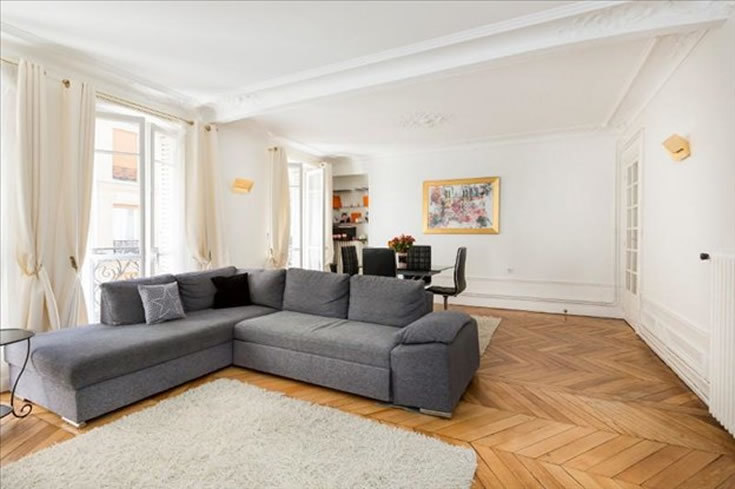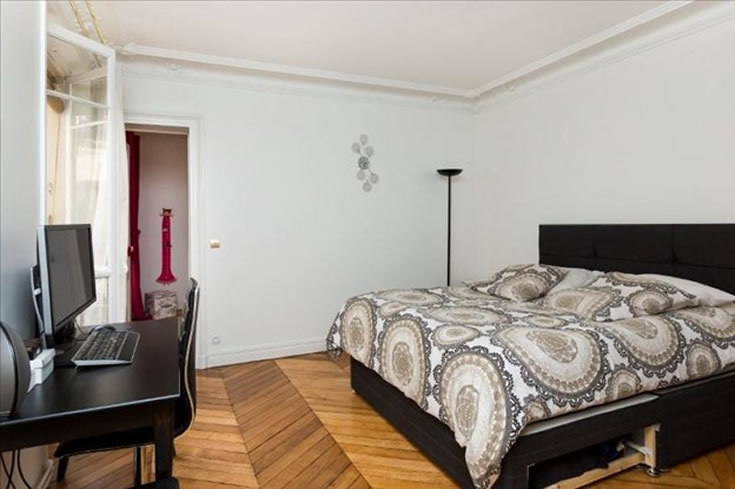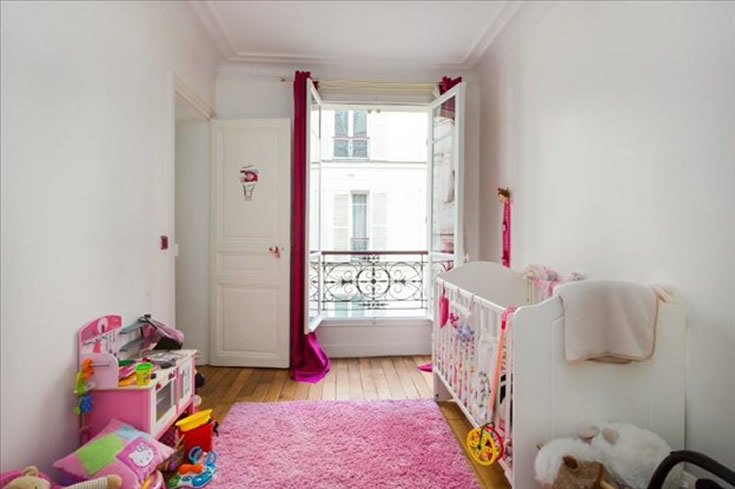 Exceptional features of this two bedroom apartment:
Bright and airy living space, which includes an open living and dining area with an abundance of natural lighting.
Three towering French doors that overlook a charming street.
A newly remodeled kitchen with sleek cabinets and modern appliances and fixtures.
A fresh and newly remodeled bathroom with a separate tile shower and decadent bathtub.
A private balcony with views of the neighboring Eiffel Tower as well as the prestigious neighborhood.
A classic Parisian building with elevator access to the apartment.
The option to convert the two adjacent bedrooms to a bedroom and office / den, or an expansive single bedroom with walk-in closets and luxuriously sprawling space.
A stellar locale that's within walking distance of the city's renowned open-air markets, rue Cler market street and an impressive host of cafes, restaurants, shops and services.
Incredible access to the Eiffel Tower and surrounding Champ de Mars gardens, which are found just one block away.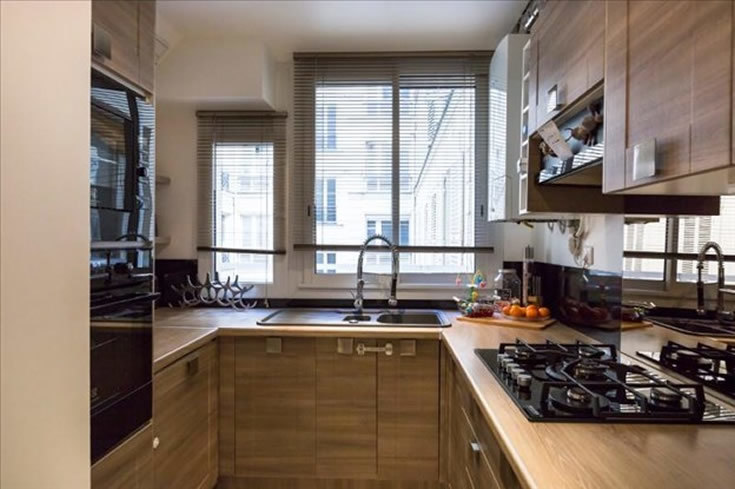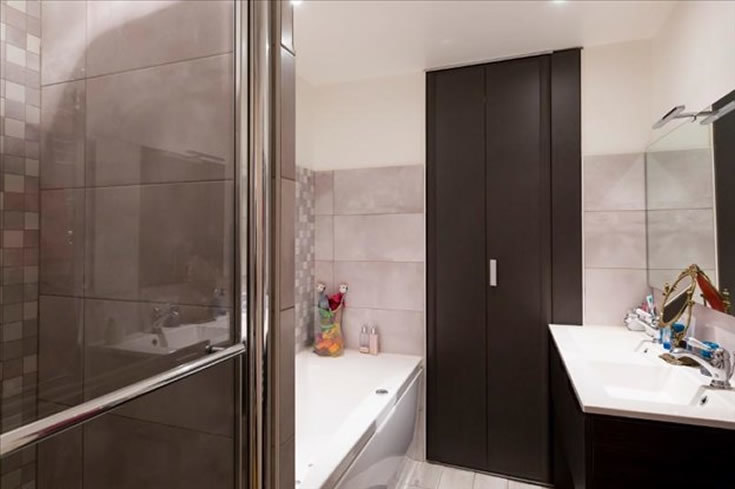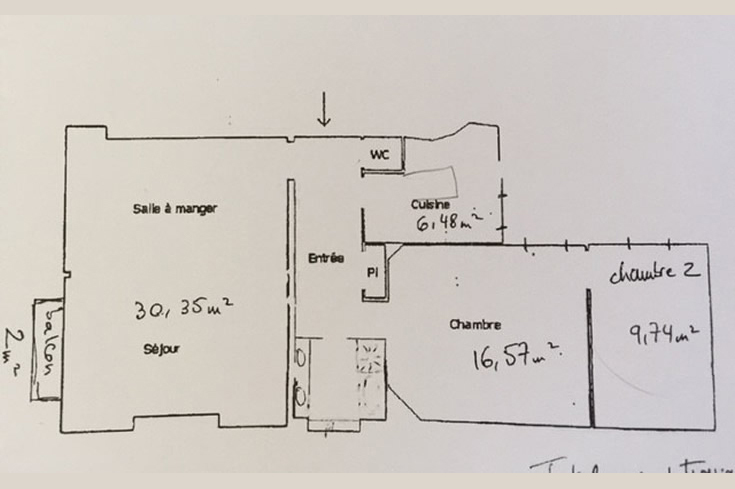 Details of this stunning 2 bedroom apartment:
Approximately 800 square feet of living space.
Master bedroom with original "point d'hongrie" parquet floors and a view of a quiet courtyard.
Second bedroom overlooking the courtyard is accessed via the master bedroom and can easily be converted into walk in closet or an office or den.
Newly remodeled bathroom with a separate tub and tiled shower.
Newly remodeled kitchen with top of the line appliances and fixtures, modern cabinets and natural lighting via a pair of windows.
Three floor-to-ceiling French doors.
Sunny, south-facing apartment.
Offered at €1,079,000, including all fees.
Luminous and inviting, this apartment boasts one of the best locales in the 7th arrondissement and is a luxury retreat with a fresh and modern aesthetic that's seamlessly combined with pure Parisian charm. Contact us to find out more about calling this remarkable apartment home in Paris!