Luminous Apartment With Balcony And Dreamy Eiffel Tower Views
SALES PRICE: €1,190,000
Fulfill your dreams of a Paris pied-à-terre with this elegant one-and-a-half bedroom apartment with a sought-after balcony from which you can gaze at the Eiffel Tower. A beautifully furnished and fully equipped apartment, it is located in the most stylish 7th arrondissement location.
Just a block from the iconic Eiffel Tower, this extraordinary one-and-a-half-bedroom apartment in this upscale, central neighborhood is a perfect home away from home in Paris.
A star attraction is the extra-long balcony that runs the full length of the living and dining rooms, flooding both with sunshine and views through the classic French doors. The balcony is wide enough for a bistro table and chairs for enjoying breakfast outdoors by day or sipping Champagne with views to your right of the sparkling Eiffel Tower by night. Balconies are an extremely rare feature in Paris, because in most Haussmannian buildings, the balcony iexists only on the 5th floor (6th floor North American). 
Unlike many Parisian apartments, there are no apartments across the street directly facing it which ensures privacy. Instead, the building across the street is a turn-of-the-century school with a low terra cotta tile roof so no one is peering into the apartment and your view of Paris is unblocked.  The apartment is easily accessed by elevator.
The living and dining areas are south-facing, which provides luminosity by day. Completely furnished and totally equipped it is located steps from the Champ-de-Mars gardens, between the elegant Avenue de la Bourdonnais and Avenue Rapp, two of the most desirable and storied streets in Paris. We love the sunny views through to the trees and gardens surrounding the Eiffel Tower – which will become an even larger green space thanks to the exciting plans to expand the garden in time for the 2024 Olympic Games.
Easily accessed by elevator, the apartment sits on the fifth French floor (sixth North American) and is south facing, so it is filled with light all day. The large open-plan living room and dining area provide plenty of room to relax and entertain. Two large French doors usher in natural light and open up to the long balcony, which offers unobstructed views to the Champ-de-Mars gardens in one direction and Jules Lavirotte's famous Art Nouveau building in the other. The apartment is located off Avenue de la Bourdonnais and Avenue Rapp, two of the most desirable and storied streets in Paris' exclusive and safe 7th arrondissement.  While enjoying this central location, the apartment is remarkably quiet.      
The large living room can easily be converted to an additional sleeping space with the high-quality trundle sofa bed that converts to two single beds. The pocketed sliding doors effortlessly separate the living and dining rooms offering guests added privacy.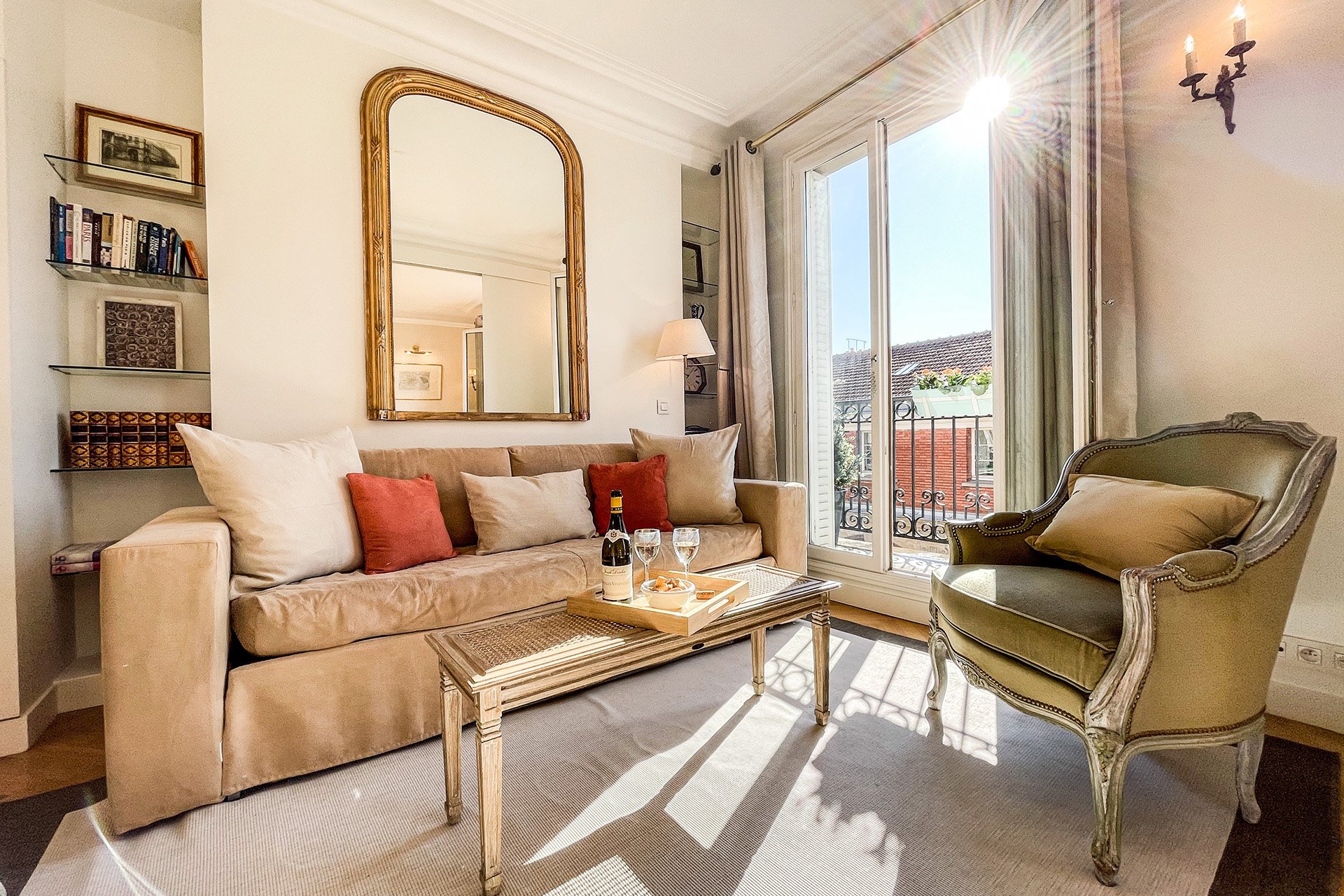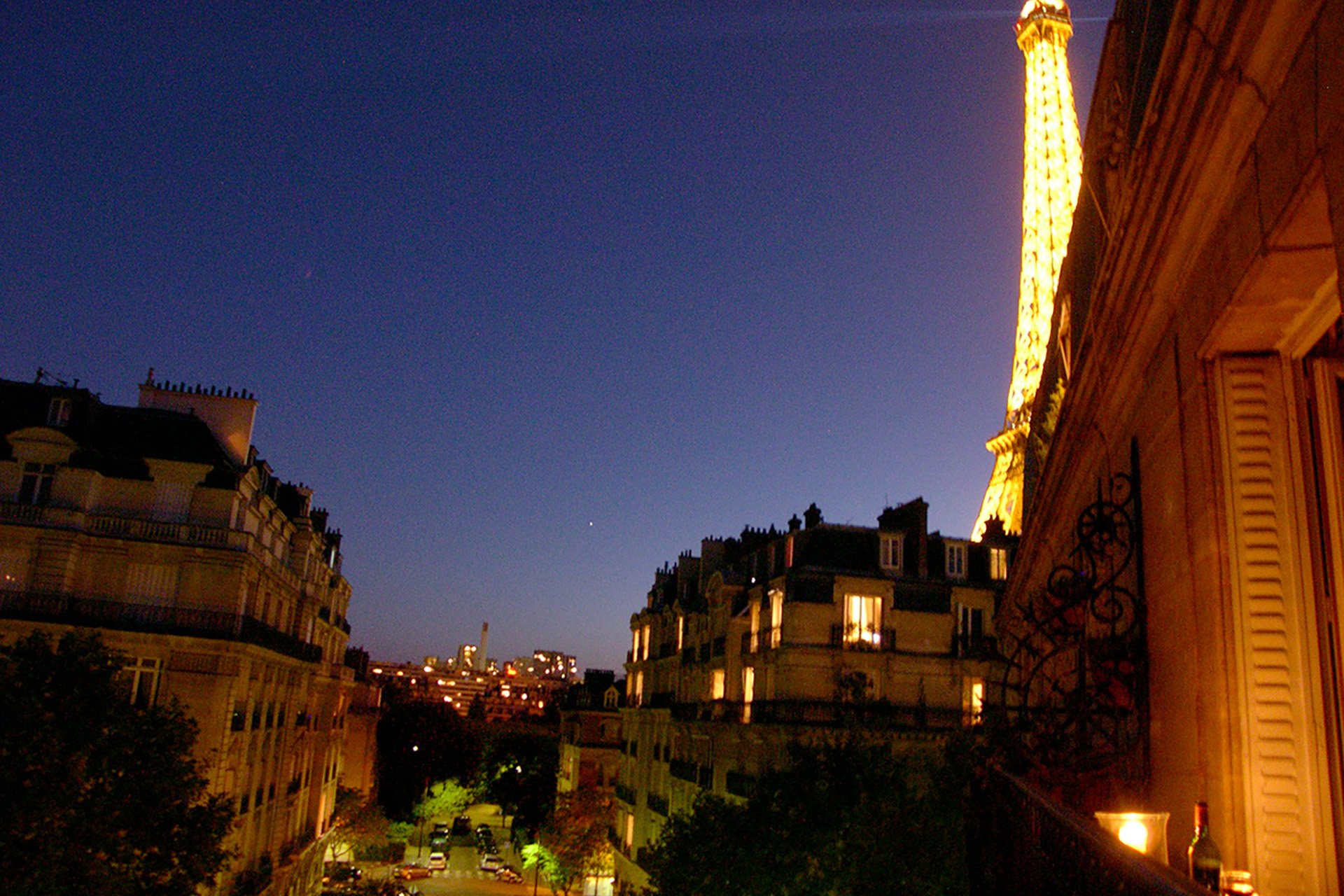 The updated kitchen, with high-quality appliances and granite countertops, makes dining in your home a pleasure. The kitchen can be closed off with sliding doors. For entertaining, the large dining room table has enough space for six, but can easily accommodate more.  
The tranquil master bedroom is located in the back of the apartment and overlooks a quiet courtyard through large, double-glazed windows to ensure a good night's sleep. It features a remodeled ensuite bathroom, tiled in fine mosaic glass tiles from Italy, complete with an enclosed shower and sink.
The half-bedroom is multi-purpose: it is a study/den that easily converts to the second sleeping area. It has a cleverly designed bed that can be effortlessly raised up to the ceiling with counterweight engineering when not in use. This appealing and flexible feature provides a dedicated work-from-home space or a convenient double bed for extra guests. 
The two recently remodeled bathrooms with showers and sinks (one ensuite) and a separate toilet ensure convenience and 'getting ready' space for all. 
The popular rue Cler, with its cafés, brasseries, open-air food market and gourmet stores, is a short stroll from the apartment, as are the shops and boutiques along rue Saint-Dominique and rue de Grenelle. The American Library, Eiffel Tower, Champ-de-Mars garden, Musée du quai Branly and Seine are all mere steps away from the apartment. A compelling feature of the location is the American Library, which is literally next door.  It's a wonderful place to attend talks by authors and local expats – or simply a quiet place to read or work. Even Parisians envy the proximity of the location to countless iconic and Michelin-recognized restaurants within a three-block radius and along rue Saint-Dominique and the Fontaine de Mars.
Just across the Seine, in the 8th and 16th arrondissements, is a bounty of Paris attractions. Museum lovers will relish the proximity to Palais de Tokyo, Musée Cernuschi, Palais Galliera, Cité de l'architecture and Musée national d'Histoire naturelle. The famous Champs-Elysées and glamorous Avenue Montaigne are a short stroll for shoppers. Another wonderful feature of this location is the close proximity to buses which will take you directly to major destinations in Paris – Opéra, Saint-Germain, Marais, avenue Montaigne, Place de la Concorde, the Louvre, etc. Enjoy lovely long walks to discover beautiful neighborhoods, shops, bistros and cafés, then stroll home to your welcoming nest in Paris. Truly, the best of Paris awaits, with this apartment as your home base.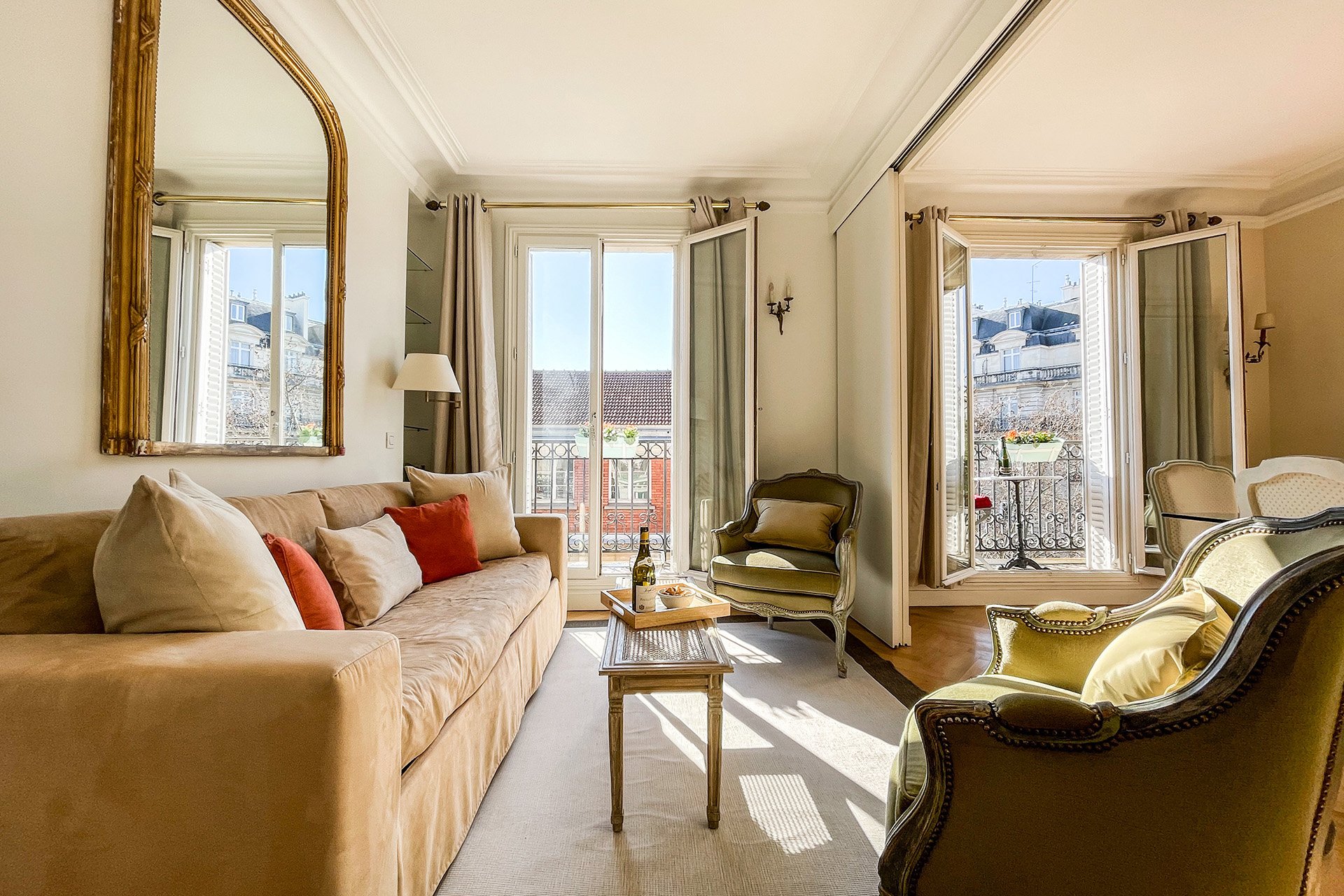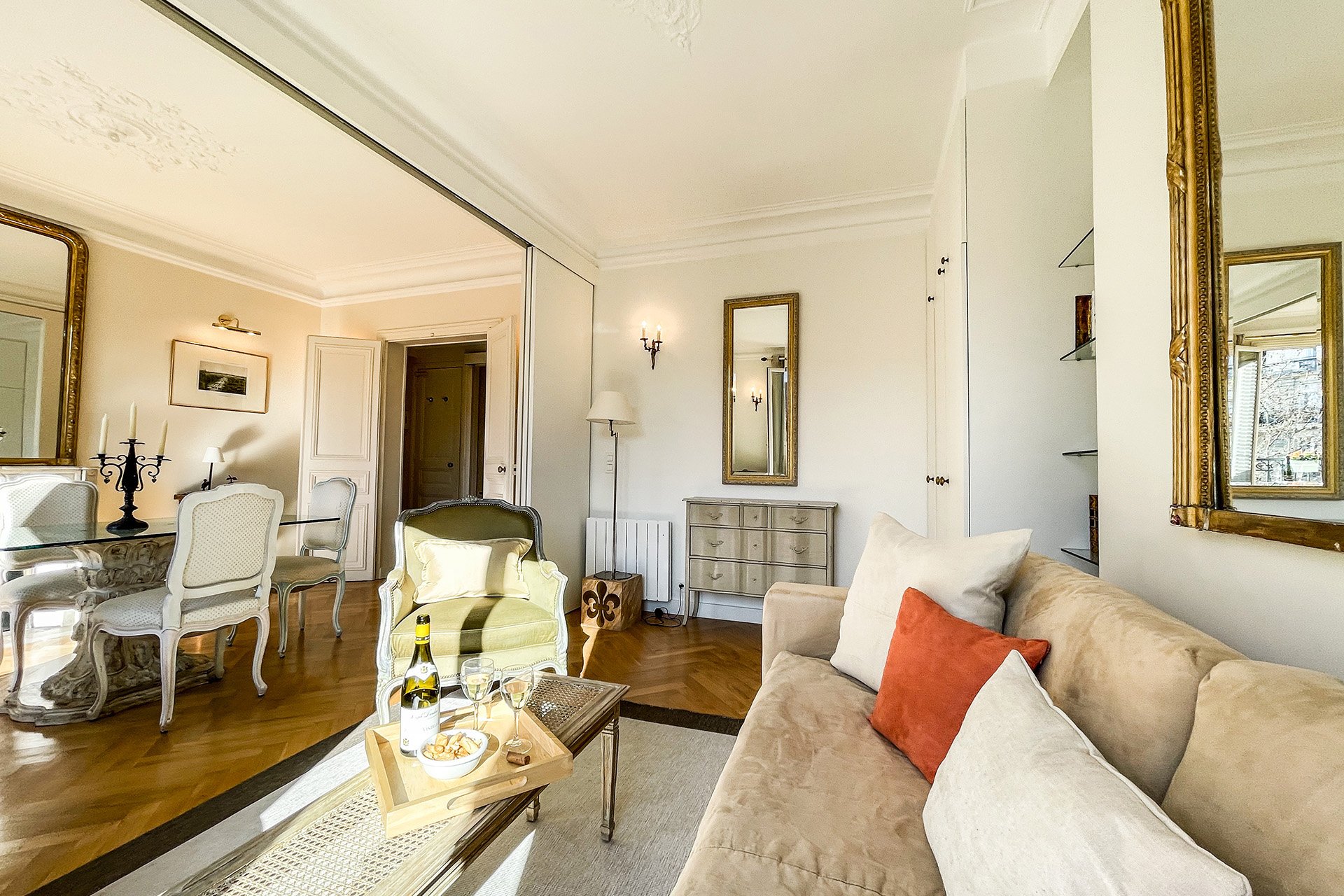 Highlights:
1.5 bedroom – half bedroom with retractable bed can be an office/study
2 bathrooms, each with a shower and sink; 1 separate toilet
Long balcony off the living and dining rooms, with space for a bistro table and chairs
Views of the Eiffel Tower, Champ-de-Mars gardens, the famous Lavirotte Art Nouveau building on avenue Rapp, Parisian rooftops and beautiful Haussmannien buildings
Tall French windows in the living and dining rooms offer plenty of natural light
Kitchen with dishwasher, full-size refrigerator, oven, four-burner cooktop, microwave, Nespresso coffee machine, pots, pans, dishes
Full-size washer and dryer
Mobile air conditioning
From the street, there are two doors that require security codes
Elevator
Intercom for guests downstairs to call the apartment from which you can press the button to allow them entry through the second door
Sold fully furnished and completely equipped
New parquet wood flooring
Remodeled bathrooms
Basement storage room (cave)
Perfect location in the sought-after and stylish 7th neighborhood, a short stroll to the rue Cler open-air market, Champ-de-Mars gardens, Eiffel Tower and the Seine River